Before you decide anything, you need to know how much internet speed do I need so you can have satisfactory service. However, you first need to know what you use your WiFi mostly for? Is it for online gaming, for streaming movies, or just for general working that you need to do from home?
While it all depends on your own needs, the FOC give recommendation of 12Mbps for the speed which ideal if your family have multiple users or for those who love to watch online stream.
How Much Internet Speed Do I Need to Be Use fast and Secure?
Before you know the answer, you must want to know what is considered as fast speed. According to FOC, the upload should be 3Mbps for the minimum and the download should be 25Mbps for the minimum. With this speed, it should be able to accommodate most need that the family member has on the internet usage.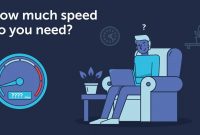 But still when it comes to the best one, it still depends on how you use the connection itself. For example, if you need to stream on the internet with ultra HD quality, then the fast connection for you would be around 100Mbps. Meanwhile the fastest connection that available currently is on 2GBbps and only available in selected areas.
Even though it all comes to how you use the connection, let us give some ideas that you can use as guide. First is for streaming, the minimum speed recommended is usually around 3Mbps. But for HD quality streaming you would need at least 5Mbps and for 4K quality streaming you would need at least 25Mbps for the speed. Again, it also differs for different streaming provider, thus you might want to check the recommended speed that suggested by the streaming provider for best usage.
When it comes to gaming, they are quite different, but usually the minimum speed is around 4Mbps to 8Mbps as the minimum if you want to get consistent experience for gaming. However, if you want the best experience, then it is recommended for the speed to be at least 10Mbps to 25Mbps as the minimum. However, you should also remember that for gaming, the internet download speed would not be the only factor that come to play. However, it is still important as it affect the transfer speed that your device do from and to the gaming server.
You can use all of the above information to decide how much internet speed do I need on your own home.