5G phones are needed if you want to be able to access the new 5G network. This technology is the next standard of mobile network that comes in the next generation. A long time and a lot of resources had been used to be able to deliver this new network. It is dubbed to have faster speed as well as lower latency which able to give a nearly real time data transfer on maximum performance. It is the most anticipated network today that many people wanted to use since they will have better capability and efficiency compared to the previous generation.
Brand that Already Released 5G Phones Support
Of course, since the network used new technology, this means your device should also have the right technology to access it. Since 2019 there are various phone released that already supported the new 5G network. Of course, starting 2020 year, it would be 5G phone year where almost all top end devices should already offer 5G connectivity. But do not worry as there should be some mid-range devices that also already support this technology.
In near future, the phone that support 5G network would not be as expensive anymore. Especially since this network would be the next standard which should be have by all phone in any price range. Here are some of the brands that already released phone with 5G network support.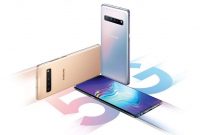 Samsung
Samsung is one of the brands that actively released phone that support 5G network. For example, the device under Galaxy S20 series which all already support 5G usage. Furthermore, they are packed with high end features with sensible price tag.
OnePlus
OnePlus has two phones that already support the network which are the 7 Pro 5G and 8 Pro series. These phones have high end chipset that makes the phone run well in the new network connectivity.
Xiaomi
Xiaomi also comes with Mi Mix 5G with more affordable price range compared to the other. It has a nice specification which might be soon be toppled with various new devices released but it was one of the most affordable available today.
OPPO
OPPO released a mid-range phone in Reno 5G series that has decent camera and full body display. It is affordable but not cheap, still it is a great phone to have.
As you can see, some of those companies re-released their old phone series with 5G support to renew it. So, you might need to search for 5G tag when searching for 5G phone to buy.